Is your stack of library books dominated by the works of Ann Rule, opens a new window and Vincent Bugliosi, opens a new window? Do you fantasize about one day solving a cold case on your own? Do you jump for joy every time your favorite true crime podcast, opens a new window posts a new episode?
If you answered a resounding "YES!" to any of these questions, then you're likely one of the many people who have caught the true crime bug! Feed your morbid curiosity with these five films based on real-life crimes, available to stream immediately with your library card.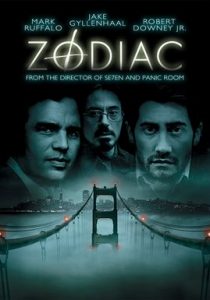 Ever since I found a copy of Robert Graysmith's Zodiac, opens a new window at my grandma's house in 6th grade, I've been transfixed by this infamous cold case. The still-unknown serial killer who terrorized Northern California in the '60s and '70s has inspired several films (including one low-budget production, opens a new window created for the sole purpose of luring and entrapping the Zodiac!), but this moody, hypnotic film from director David Fincher is my favorite. 
My Friend Dahmer, opens a new window
Based on Derf Backderf's graphic novel/memoir, opens a new window of the same name, this film adaptation stands out from other true crime stories by giving us an unprecedented look into a notorious serial killer's troubled adolescence, rather than his nightmarish crime spree. Former Disney star Ross Lynch delivers a haunting performance as a vacant teenaged Jeffrey Dahmer, illuminating his sociopathy rather than trying to make the viewer sympathize with him. 
All Good Things, opens a new window
The disappearance of Kathleen McCormack in 1982 is the basis for this captivating thriller set against the backdrop of 1980s New York. Although the notorious case remains unsolved 36 years later, McCormack's husband, real estate heir Robert Durst, has long been considered a prime suspect. Director Andrew Jarecki would eventually get deeper into this case than he ever anticipated, conducting a series of truly alarming and self-incriminating interviews with Robert Durst himself for HBO's fantastic documentary series, The Jinx. 
Jack Black hits all the right notes in his surprisingly subtle portrayal of Bernie Tiede, affable mortician turned convicted murderer. Deftly alternating between dramatized scenes and interviews with the story's real-life players, this film from director Richard Linklater is a thoughtful exploration of public perception and the way social structures operate in a small town. 
Mississippi Burning, opens a new window
This Oscar-nominated film from director Alan Parker depicts the FBI's investigation in a rural Mississippi town after three civil rights activists go missing, with the perfectly paired Willem Dafoe and Gene Hackman as the two lead investigators. Loosely based on the Freedom Summer Murders, opens a new window of 1964, this is a powerful story from our country's not-so-distant past that deserves to be revisited.