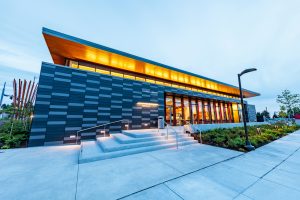 The King County Library System has received the highest rating­–Five Stars–from the Library Journal Index of Public Library Services, which announced on October 30, 2018 the results of its 11th review of U.S. public libraries.
KCLS was among 7,361 public libraries rated for the 2018 Index, and one of 257 to be named Three, Four or Five-Star Libraries, which designate overall excellence across five categories. KCLS was the only library spending $30 million or more annually, that gained a Star between 2017 and 2018, moving up from Four to Five Stars this year.
"We are pleased to be named a Five Star Library by Library Journal which recognizes the quality services KCLS provides to the community," said KCLS Executive Director Lisa Rosenblum. "The high ratings reflect the value patrons throughout King County place on their libraries."
According to the Library Journal, a Star rating not only means that a library itself delivers a strong return on investment, but that when graded on a curve, it is one of the strongest performers. The Index is based on five per-capita statistics: circulation, library visits, program attendance, public Internet computer use, and circulation of electronic materials. Data recently released for fiscal year 2016 by the Institute of Museum and Library Services, an independent federal agency, was used as the basis for the 2018 ratings.
                                                                         ###
Contact:
Julie B. Acteson, KCLS Community Relations and Marketing Director
425.369.3273
jbacteson@kcls.org
About King County Library System
Founded in 1942, the King County Library System (KCLS) is one of the busiest public library systems in the country. Serving the communities of King County (outside the City of Seattle) in Washington State, KCLS currently has 49 libraries and more than 700,000 cardholders. In 2011, KCLS was named "Library of the Year" by Gale/Library Journal. In 2017, KCLS welcomed more than 10 million visitors, and residents checked out nearly 21 million items, including more than 4.7 million digital eBooks, audiobooks and other digital materials, making KCLS the #1 digital circulating library in the U.S.