At the King County Library System (KCLS) we strive to offer patrons the best possible customer experience. We've had to make adjustments per the Governor's Stay Home Stay Safe order and Public Health guidelines. These adjustments have impacted how we offer services during the COVID-19 pandemic. Fewer staff are working in buildings. Libraries are open fewer days a week, for shorter hours. Safety guidelines slow down our standard processing speed. We would like to thank you for your patience as we adapt to this new normal. We would also like to share in greater detail some of the reasons why your experience is different now.
Contents
Staffing and Hours
Not all our staff can safely return to work now. We currently have fewer staff working in our libraries and the shipping department. New hours of operation are based on the number of staff who can safely work in each location.
We are currently open from Tuesday to Saturday at locations offering curbside service. This decision was made so that we can offer consistent hours system-wide. Doing so helps to eliminate confusion for patrons and staff. 
Being closed on Mondays offers some necessary advantages. It allows vendors, shipping, facilities, and IT staff to complete important work. They use this time to make building repairs, technology upgrades, and deliveries.

Safety
We have new safety practices in line with Public Health guidelines:
Screening employees before entry.

Wearing face masks.

Maintaining six feet distance between staff.
Even with safety protocols, we may need to close some libraries when staff cases are reported. During closures, buildings are thoroughly cleaned and sanitized. We do our best to minimize any delays in service but these closures may cause delays.

Returns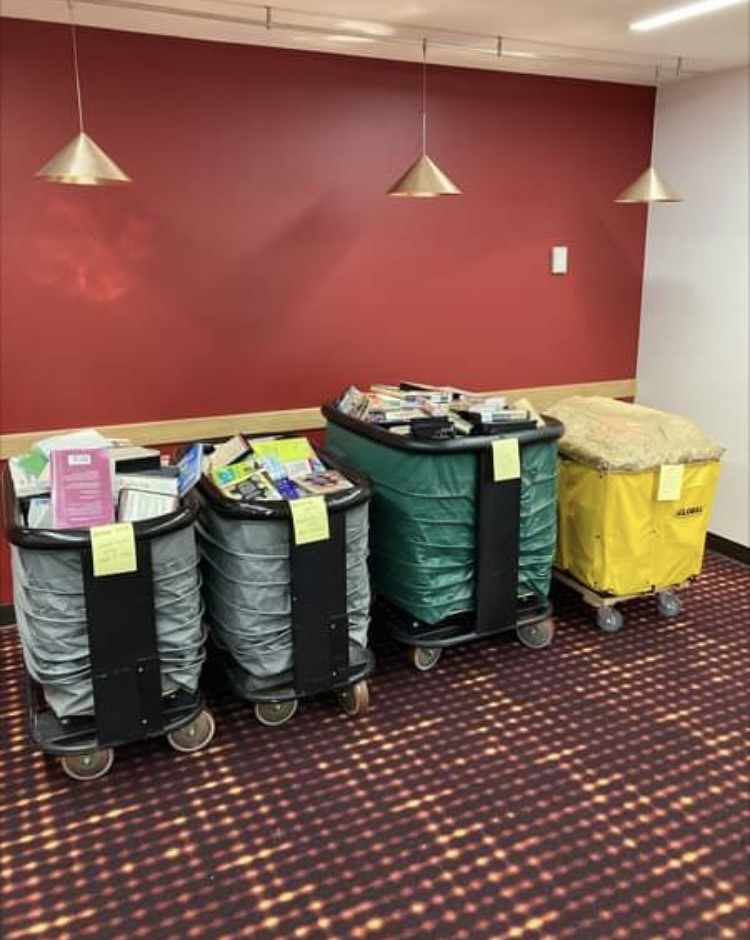 We're now accepting returns through the manual book drop and Self-Check-in. We're also able to accept returns handed to staff in-person.  
You may occasionally encounter a closed book drop that you expect to be open. Book drops are open 24/7 unless they fill up. When you return items through the book drop they go into bins. To keep book drops open, staff need to be available to switch out the bins when they get full. This prevents the return slot from getting backed up or blocked.
Even though book drops are open on Sundays and Mondays, all libraries are closed those days. If book drops fill up on days when we're closed, staff aren't available to switch out the bins and keep the drop open.
When we run out of bins and space, staff also need to close the book drops. You may notice items remain on your account after they have been returned. Here's an example that demonstrates why:
Most libraries are open on a Tuesday-Saturday schedule. If you return items on Saturday night, staff won't begin processing those items until Tuesday.
When we receive an overwhelming number of returns, it may take even longer. Please know that you do not need to worry about late fees. We will not charge overdue fines until further notice. We still ask that you please return your items when they are due. Other patrons may have a hold on the item you're returning.
Holds
When an item you have requested travels from one library location to the next, its status is "in transit." When the item arrives at your pick-up location, it is then checked in. The same factors that slow down the check-in process for returns also impacts your holds.
Scheduling Curbside Pick-up Appointments
You may wonder why you need to schedule an appointment to pick up holds. Scheduling your appointment helps keep staff and other patrons safe. With an appointment, you can quickly walk up, pick up your bag of items, and walk away. Designated time slots limit the number of people gathering at the library at the same time. You may use the myLIBRO app to make an appointment, or if you prefer, the website.

Customer Service
Need to talk to library staff? For your safety and ours, please respect the following rules when walking up to a library:
Stay behind the six-foot cone.

Keep conversations short.
We value your privacy, and we don't want you to have to share your personal details by speaking loudly in public. If you need help with your account, you can call our Ask KCLS team. Phone lines are open daily from 12-5pm. They are also available by email and chat. Visit our Ask KCLS page for more details.

Volunteer Opportunities
We appreciate your interest in helping the library. For safety reasons, we are not allowing the public or volunteers in our buildings right now. The best way to help us help you is to follow all health guidelines. 

Reopening Buildings
We're pleased to announce that some libraries have reopened. Find out what to expect during your visit.
All libraries will open for visits in July. We will end Curbside to Go as library buildings reopen. Some locations may reopen or expand their hours earlier if they are able to. Find out when hours and services are changing.
Updated 6/15/2021