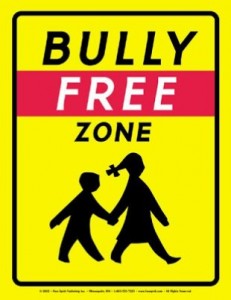 There are lots of books out there for kids that talk about bullying but the discussion is a tough one to have with younger kids.  How do you encourage strength and character in the face of mean kids in ways that keep the peace and win the day?
There are no easy answers but there are some great picture books for preschool through third graders that demonstrate creative ways to deal with a bully without becoming one themselves.  Compassion and cleverness are key and the conversations these books encourage can lead to real answers for kids.
Start a conversation today with Stand Tall, Molly Lou Melon.  Molly Lou is the smallest first grader you ever did see but her grandma has told her, "Walk as proudly as you can and the world will look up to you."  Her grandma is a brilliant woman and Molly Lou Mellon knows a good thing when she hears it and she knows what to do when faced with a bully.

Nerdy Birdy learns about his own inner strength when faced with rejection from the in-crowd.  He just isn't cool like Eagle or Robin and they don't treat him very nicely but what can he do?  Well, he can find his own group which turns out not to be what you would expect.  Finding the friends who make you happy helps you stand strong.

What Does It Mean to Be Kind? is a lovely book for children who are learning to live well with others.  The thought it builds toward is that "being kind means having the courage to treat others the way you like to be treated."  The conversations this book will launch go way beyond bullying and will touch on the core of strength we hope to encourage in our children.

In The Recess Queen you will meet  "A teeny kid.  A tiny kid.  A kid you might scare with a jump and a boo!"   A kid named Katie Sue.  Like Molly Lou Mellon she is her own little person and her confidence makes her strong.  Even in the face of Mean Jean the Recess Queen.

These books are all lighter looks at bullies but if you want some more in-depth books on the topic check out this list of helpful titles.