In late May, the Bellevue Library will host Xperience! Music & Technology Festival, a free all-ages weekend of music and technology. This is your chance to hear performances from incredible local artists like SassyBlack and DoNormaal and get hands-on experience with emerging technology like 3D printers and audio recording software. Whether you want to build a musical instrument, take a ukulele lesson or just listen to some great bands- there will be something for everyone!

As we gear up for the event, we will be featuring interviews with some of the performers on our blog. Get to know J'Von, a Seattle native working in experimental hip hop. He writes, composes, records, mixes and performs his own tunes--the most recent release being his potato, the mini quest EP.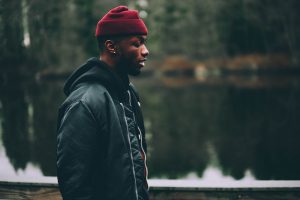 KCLS: How does technology play into your approach for writing songs? Where do you begin--with a lyric, a groove, an idea? 
JV: I work a full-time gig that gives me very little wiggle room to be too creative musically. But all things considered, my phone has been very clutch for getting ideas down. I stand around mumbling melodies or syllabic rhyme patterns that eventually get recorded into voice memos. I downloaded the GarageBand app which is great for rough ideas. Either way, I get the ideas stored, then dump them onto my computer at home and flesh the good ones out. It usually starts with a melody these days, then words, then chords, then drums, and then sectioning the song.
KCLS: In addition to writing and producing the songs on your new EP, you also animated a music video for potato. Can you tell us about how your visual explorations play into the flow of your lyrics and rhythms?
JV: I'm not all too sure of the particular thought process I had when making the visuals. In addition to being a real scatterbrain, I was just learning how to animate my drawings. The visuals came after the lyrics. I wrote most of these songs around things I was going through; losing friends, dating a new woman, dealing with a previous relationship, etc. It's all pretty apparent, just very unorganized lol. This EP is the beginning of a new style in my music and art direction.
KCLS: If you were a root vegetable, what kind would you be?
JV: I would, almost certainly, be an onion. I might not be liked immediately off the peel, but there's a hidden health to me. 
KCLS: What are some of your early musical influences? When and how did you begin crafting your own music?
JV: MADLIB SAVED MY LIFE. Really though. I had been pretty out of the loop, just listening to whatever. I found this flash drive at the UW library that had Medicine Show on it. I was in love, and super committed to making this type of rap music. From there on, I slowly began realizing that Tyler the Creator was Jesus Christ, and I wanted to be able to use my creativity in multiple ways, as he does. I saved up money from work, purchased a cheap recording package from Guitar Center, and began practicing.
KCLS: Do you have any favorite current reads, records or films? 
JV: The new Kendrick Lamar album is basically the only thing I care about right now. It's soooooo good.
KCLS: Why is performing at a library of interest to you? How does being a part of a music scene build community?
JV: Performing at a library has this paradoxical charm to it, a library being an arbitrarily quiet place. I feel like my mellow energy performing would go really well with the atmosphere, and it'd be an intimate space. Being part of a music scene places you with a bunch of dreamers, in a sense. Even if you don't speak with your presumed peers, you still know there is a man down the street struggling to make his life better in the same way as you. You aren't ever really the only one going through the motions, and there's peace in that.
J'Von's set begins at 3:45 pm on Saturday May 20th at Xperience! Music & Technology Festival. 
Connect to J'Von and his music here:
Twitter -- @itsjvon
Bandcamp -- https://jvon.bandcamp.com/
Soundcloud -- https://soundcloud.com/itsjvon