Getting ready for an MOS Word 2013 Certification test? Take a simulated mock test to help you prepare! If you do not have Word 2013 on your home computer, you can reserve a computer in a KCLS library near you.
Here's how to get started:
Open Microsoft Office Certification Class Steps
Resize the window to the bottom third of the screen
Open MOS Certification Class Document
Resize the window to the top two-thirds of the screen
Follow the instructions in the Class Steps document to make the changes to the Class Document
Your screen should look similar to this: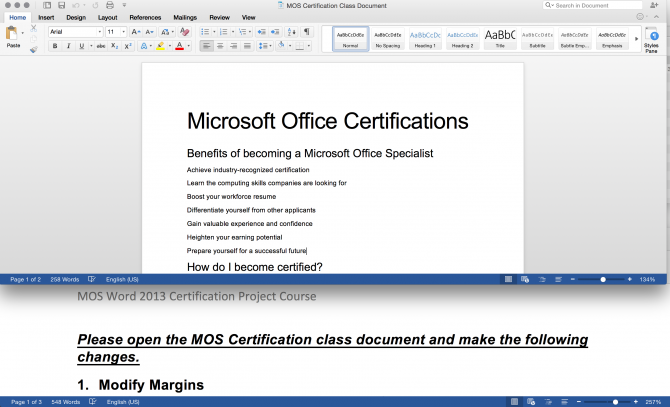 A few more helpful tips:
If you need help with any of the steps, the Step by Step document may be useful
Peek at the Finalized Class Document file to see what your document should look like at the end
Any files you need to insert into Class Document are in the MOS Word 2013 folder
Set a timer for 50 minutes and see how far you can get; if you can correctly complete 25 of 30 questions in that time, you're about ready to take the real test!
Find more test prep materials and information on upcoming MOS Test Dates here.