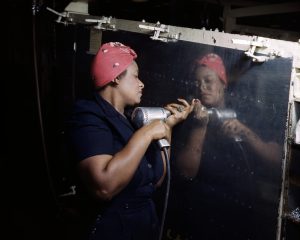 It's Women's History Month, the time of year when we honor the historical and cultural contributions of women from all of the various backgrounds and life circumstances that make up the American landscape we enjoy today; women who have been "consistently overlooked and undervalued in the body of American history" and yet have made many "historical contributions to the growth and strength of the Nation¹."
To celebrate the amazing women of our collective past and present, hoopla put together a few excellent anthologies of movies, music, and comic books that look deeper into women's issues and praise womanhood and girlhood in all their forms. Take a look!
This 16-item collection features films from Marina Abramović: The Artist is Present (you may have seen part of this documentary already, as the scenes of her sharing a minute of silent contemplation with a former lover went viral on YouTube a few years ago),

to Dark Girls, a documentary meditation on the ways dark-skinned women face prejudice in the modern world.

Featuring albums as wide-ranging as Madonna's The Immaculate Collection,

Etta James's At Last!, and

Julie Andrews Selects Her Favorite Disney Songs, you're sure to find something to please your ears.

Here's where hoopla really shines! They've got standard superheroine choices like DC Comics Bombshells, which puts Batwoman, Wonder Woman, and others at the head of allied forces in WWII, next to

Nathan Hale's Hazardous Tales: The Underground Abductor, a graphic novel biography of the life of Harriet Tubman that will capture the imagination of kids and adults alike, and

Bitch Planet, a (100% lady-made) violent and satirical take on sci-fi exploitation novels where "non-compliant" women are sent to an off-world women's prison to live and fight things out Hunger Games-style.

The best part? NO WAITING! You can get all of these awesome titles instantly through hoopla! If you're looking for something in print, check out this great Women's History Month book list put together by KCLS staff!
How are you celebrating Women's History Month? Let us know in the comments!
---
¹ Quoted from Public Law 100-9, Joint Resolution of the 100th Congress, 1987