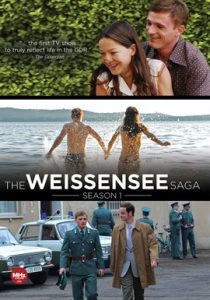 Every week a guest teen reviewer shares a book, movie, or music recommendation. This week's guest post is by a 10th grader at the Shoreline Library. 
Weissensee [streaming television]
Weissensee is about two families from East Berlin in the 1980s: the Kupfers and the Hausmanns. Hans Kupfer and his elder son, Falk, are high ranking officials in the Stasi, the East German State Security, but have very different approaches when it comes to interrogations or spying.
The younger son, Martin, on the other hand, is a simple police man, working for the East German Volkspolizei. He falls in love with the young Julia Hausmann, who is the daughter of the system-critical singer Dunja Hausmann. The love of the two becomes the central event of the story.
At the beginning of the story, Martin doesn't expect to fall in love. And Julia is actually spoken for by the German-American Robert Schnyder, who visits her from West-Berlin almost daily. But Julia and Robert get arrested for speeding and Martin finds himself bending the rules under the watchful eyes of the East German State. Without knowing about his son's feelings, Hans Kupfer orders the couple to be watched and Falk rushes into the case with great enthusiasm.
Meanwhile, Julia is torn: after a meeting with Martin at Lake Weissensee, she is in love with him. But there is also Robert, who wants to take her to the West in his Mustang convertible in a hidden hollow space. Julia has to decide between Martin and Robert, between staying and leaving.
However, Falk and his colleagues have thoroughly spied on Robert and are well aware of the escape plans. By the time Robert sets off with Julia towards the west, the border guards have long been informed. However, when Robert is stopped at the border, the officers search his car and find the hiding place empty. Where is Julia? Does love have a chance? The series will offers deep insights into the lives, hopes, and struggles of the East German people just a couple of years before the fall of the wall. 
Recommended for ages 12 and older. In German with English subtitles