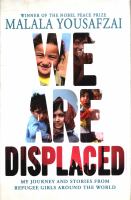 Every week a guest teen reviewer shares a book, movie, or music recommendation. This week's guest post is by a 6th grader at the Bothell Library. 
We Are Displaced [book]
We Are Displaced by Malala Yousafzai is an amazing book that allows you to understand some of the difficult things that people go through that you don't really think about because you might not be going through something that difficult.
The book is all about these different people, including Malala, who are going through tough things back home and they have to go somewhere else. Many of these people have to flee their countries and make long journeys to other places in harsh conditions.
Will they make it to their final destinations? Find out by reading the book.