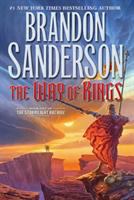 Every week a guest teen reviewer shares a book, movie, or music recommendation. This week's guest post is by Maya, an 11th grader at the Redmond Library. 
The Way of Kings [downloadable audiobook]
The Way of Kings was a great audiobook selection because of the length of the book. At over 1,000 pages (which translates into 45 hours of audio) it's nice to be able to multitask while listening. Personally, I took to painting my bedroom. 
The plot was a little bit hard to follow at first (because of how many characters there are) but once you figure your way through all the names it's a great story. Lots of intertwining adventures, world-building and perspectives which was really cool. I would definitely recommend this series to a friend, likely one with stamina for a long read and who likes fantasy.