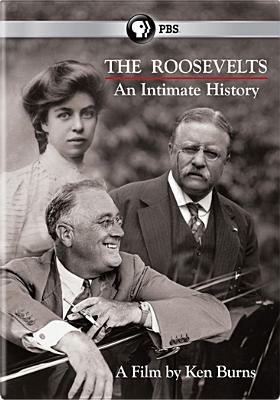 Every week a guest teen reviewer shares a book, movie, or music recommendation. This week's guest post is by a 10th grader at the Shoreline Library. 
The Roosevelts: An Intimate History [streaming television]
With a focus on Theodore, Franklin, and Eleanor Roosevelt, the 14-hour long PBS series covers 100 years of American history. The documentary by Ken Burns focuses on the events and the ideological and psychological influences that shaped the Roosevelts, who then shaped America. Although it is possible to see only a selected episode, the story is complete as it is.
From the birth of Theodore (Teddy) Roosevelt to the death of Eleanor Roosevelt, Burns takes his viewers through the McKinley assassination, the presidency of Teddy, the construction of the Panama Canal, the marriage of Franklin and Eleanor, World War I, the creation of National Parks, Franklin's ambitions, the Great Depression, the role of radio in reaching the average citizen, Franklin's presidency, the New Deal, World War II, the postwar struggles for civil rights and human rights, and the creation of the United Nations, to name but a few examples.
The many supporters, but also the wide range of enemies, appear, and alongside the achievements also the attacks – both from the liberals and the conservatives – get their place in the documentary. It is interesting to see the three Roosevelts in a documentary film, because they could not have been more different. Enjoy the usual Burns technique, the excellent narratives, and the well-researched, detailed story of the Roosevelts. The characters are brought to life not only through images and narratives but through their personal correspondences – with the help of Paul Giamatti, Meryl Streep, and Edward Herrmann, who voice Teddy, Eleanor, and Franklin, respectively.
Even if you knew a lot about the Roosevelts, the PBS series brings a fresh, new angle to this political dynasty. Recommended for ages 13 and older.