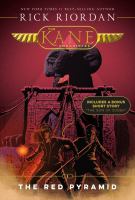 Every week a guest teen reviewer shares a book, movie, or music recommendation. This week's guest post is by Spencer, an 11th grader at the Issaquah Library. 
The Red Pyramid [book]
The Red Pyramid is a fun book that has all the elements of an excellent children's fantasy book. The main cast is funny and smart, the plot is fast-paced and adventure-filled and the world-building is strong. I like the slight nods to the Greek demigods and appreciate that the author did not hit us over the head with the fact that they are in the same universe. As a British American, I find Sadie's occasional dialect mistakes hilarious and relatable. 
The narration style is interesting if not my favorite thing in the world. The story is told after the fact in a recording that Sadie and Carter are making. The point of view shifts between the two of them and they both definitely have clear personalities. However, I don't love it when one makes a comment in the other section, I find it breaks the story and feels unnecessary.
I find it impossible to not compare this book to Percy Jackson and the Olympians and The Heroes of Olympus series. Not only are they written by the same author and set in the same world, but they also have fairly similar elements to them. Next to the other Rick Riordan books that I have read, the Kane Chronicles don't quite meet the mark in comparison. 
I enjoyed the Red Pyramid and am looking forward to reading the rest. Once you have fully emerged in the story I have found that the comparisons to any previous books fade away. It is a fast paced and fantasy filled adventure quest book, and if you like all of that you will enjoy the Red Pyramid.