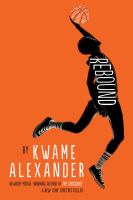 Every week a guest teen reviewer shares a book, movie, or music recommendation. This week's guest post is by a 6th grader at the Bothell Library. 
Rebound [ebook]
Rebound by Kwame Alexander, is a great book that talks about the importance of family and how they will be always there to support you.
The book is the story of Charlie Bell, a regular boy who lost his father just a couple of months back. Since then, he has been living with his mother who thinks that he is constantly misbehaving. Some of the things that he does includes: skipping school, getting in trouble with the police, etc.
After Charlie steals from an Old Lady down the street, his mother makes him pay the price. What does he have to do? Find out by reading the book…