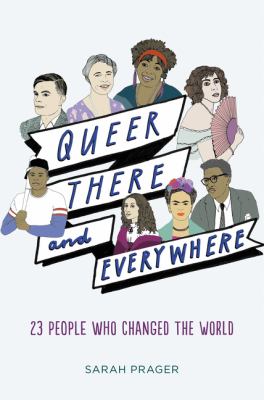 Every week a guest teen reviewer shares a book, movie, or music recommendation. This week's guest post is by Spencer, an 11th grader at the Issaquah Library. 
Queer, There, and Everywhere [book]
Queer There and Everywhere is a collection of 23 biographies written by Sarah Prager. It tells the almost secret history of people in the LGBT community. These people range from Abraham Lincoln (the 16th president) to Lili Elbe the first woman to have gender confirmation surgery. The art on the cover and at the start of the chapters are beautiful illustrations of the people in an art style that can't help but make me smile. I recommend this book to anyone wanting to read history shorts or learn more about the LGBT community's past. 
The opening is just as impactful and important as the rest of the book, it explains to premises of the book and why it's important to tell queer history. "Queer history is world history: The stories of every culture from every era. It is sometimes a tragic tale of persecution, other times the heroic triumph of love and pride over discrimination. It is also the story of innovation - the discovery of new ways to be alive and be human, of new contributions to global societies." 
This book won me over with its amazing art and impeccable storytelling. I would definitely suggest this to any who wants to learn more about Queer history or read a fun set of short biographies.