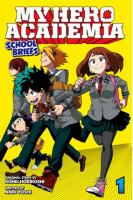 Every week a guest teen reviewer shares a book, movie, or music recommendation. This week's guest post is by Belle, a 10th grader at the Shoreline Library. 
My Hero Academia [book]
This is a world full of people who have superpowers, called "Quirks"(個性, Kosei). Most of the people, 99%, have superpowers before they are six years old. Izuku Midoriya, the main character, wants to be a superhero when he was small and even bullied by Katsuki Bakugo because he does not have any Quirks even after six years old. 
Izuku is desperate and hopeless about being a superhero, but he still rescues people. All Might, the number one superhero of the world, has a critical injury and his Quirks become weaker and weaker. Of his Quirks, "One For All" is special, and it can pass to other people. 
All Might sees that Izuku Midoriya bravely rescues other people, so he decides to pass his Quirks to Izuku. Izuku starts his "My Hero Academia", his life in U.A. High School and dreams of becoming the number one hero. What will happen in his high school? Will he become the number one hero?  
If you want to know what happens next PLEASE read the book...