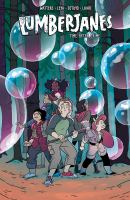 Every week a guest teen reviewer shares a book, movie, or music recommendation. This week's guest post is by a 6th grader at the Bothell Library. 
Lumberjanes 11, Time After Crime [book]
Lumberjanes: Time After Crime (Book 11 in the series) by Shannon Watters is a great book for people to read because it teaches you about how the power of friendship can overcome anything. It all starts at camp when Jo makes a machine that detects that time is going slower near camp. During the night Molly ventures out into that zone and meets a so-called spirit. 
When they gave her the option to slow time the tiniest bit she took it so that she could spend more time with her friends at camp. Since then mysterious things start happening around camp and the forest. 
Will they be able to get down to the bottom of this mystery? Find out by reading the book…