If you ask the average library staff member what their favorite Disney movie is, chances are high that they will talk about Beauty and the Beast. And is it so surprising? The heroine Belle is a consummate booklover. The Beast woos Belle with an enormous multistoried library. The two bond by reading together *happy sigh.*
I myself am a HUGE fan.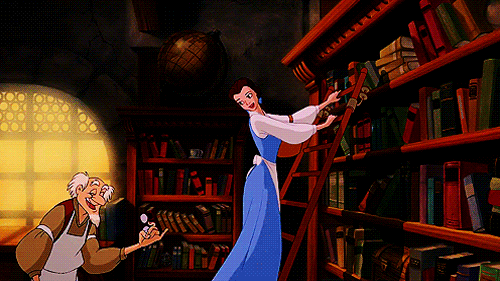 So, needless to say, we're all anticipating the release of the live action Beauty and the Beast, starring Emma Watson (a major bookworm herself!) and Dan Stevens. In honor of the coming movie release on March 17, here are some of my very favorite Beauty and the Beast adaptations for all ages.
Picture Books
This retold tale by Marianna Mayer was the picture book I grew up with- and it's still one of my very favorites. Mayer's retelling gives the classic a few interesting embellishments while her husband, Mercer Mayer, illustrates the story.
If you've never seen a book by fabulous illustrator Jan Brett, you're in for a treat. Brett illustrates with gorgeous detail. Sharp-eyed readers may notice that Brett gives hints to the Beast's curse within the pictures that surround the main story.
For the most sumptuous and intricate illustrations of all, look no further than this version by Kinuko Y. Craft. Each page reveals gorgeous oil paintings. The text is a little longer and more detailed, so this particular version might be best to share with older kiddos.
Teen Books
Rose Daughter (eBook)

Author Robin Mckinley has written not one but two adaptations of Beauty and the Beast. When I was younger I preferred her story Beauty (a lovely, long retelling) but now I prefer Mckinley's more complicated Rose Daughter, in which expert gardener Beauty helps to save the Beast's dying roses.
In this installment of the Once Upon a Time series, plain Belle devotes herself to wood carving. When Belle's merchant father breaks off a piece of wood from the Beast's beloved heartwood tree, Belle must carve the wood to see with the eyes of love and save her father.
This last story is a truly different adaptation. 17-year-old Nyx is furious that her father has betrothed her to the demon king of their country. Nyx determines that she will kill the creature and save her people. However, when she enters the evil ruler Ingnifex's castle, Nyx finds herself becoming intrigued by both her captor and the enchanted world he lives in.
Adult Books
Beauty and the Werewolf (eBook)

Author Mercedes Lackey has written many fairy tale adaptations. Lackey's take on Beauty and the Beast occurs in her Five Hundred Kingdoms series, about a world that is heavily influenced by myth and fairy stories. In Beauty and the Werewolf, eldest daughter Bella is attacked by a nobleman cursed to be a werewolf. Bella must learn to work with the magic of her kingdom to break the curse. This book can be read as a stand-alone, but if you'd like to start back at the beginning of the Five Hundred Kingdom series, check out The Fairy Godmother.
Heart's Blood (eBook)

I love how a good author can tweak parts of a classic story to make something new. Scribe Caitrin is on the run from her abusive family when she stumbles upon a garden containing heart's blood, an herb that makes exquisite ink. While examining the plant, Caitrin is frightened by the sudden appearance of crippled nobleman Anluan. Caitrin learns to see beyond Anluan's snarls and does her best to free him from a terrible curse. I like that it's not a rose that starts this relationship but a plant that has meaning for both Caitrin and Anluan.
This last book takes only bits and pieces from Beauty and the Beast, but it's one of my all-time favorite reads. Agnieszka is taken from her beloved village to serve the dread sorcerer the Dragon. However, while Agnieszka resides in the Dragon's tower she discovers that she has special powers of her very own...and perhaps the Dragon is not as monstrous as he first appears.
Got any favorite Beauty and the Beast adaptations of your own? Going to see the flick? Let us know in the comments!