Good gentles-- lords and ladies, listen close! The Bard, William Shakespeare, died these four-hundred years ago this April. (That's twenty score, for all you Elizabethans out there.) If you ask most adults what they think of Shakespeare, you get a lot of answers like this: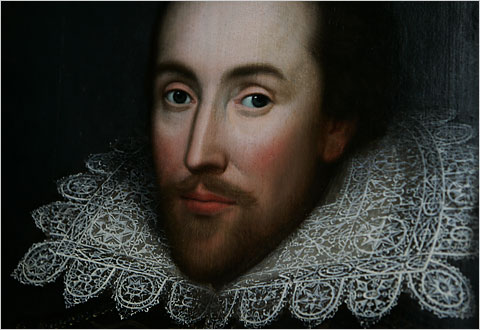 "I guess he's pretty great but I hated studying his stuff in high school."
I hear you.
Analyzing plays and having to come up with opinions on the themes and symbolism in Shakespeare's work is a torturous slog for most teenagers. But that's why people should be introduced to it as kids!
At least, Gregory Doran, the artistic director of the Royal Shakespeare Company thinks so.
And okay, and so does NPR.
"You have to let the bug bite before kids get cynical. Letting them get involved when they are 13 is much harder than getting to kids earlier, without all the prejudices and stresses and strains of the idea that Shakespeare is somehow difficult or boring or academic," Mr. Doran said. Kids are a lot less intimidated by the difficult language; they run into words they don't know all the time! What's more, the stories in Shakespeare's plays are often full of wonder, magic, and lessons in ethics and morality.
So! If you're interested in sharing the Bard with your littles, check these out:
Will's Quill Or, How A Goose Saved Shakespeare

A lovely picture book about the Bard and a goose. When Will Shakespeare befriends Willoughby Waddle, a goose exploring London for the first time, the fowl decides to return the favor with a perfect gift.
The Bite-sized Bard Presents Shakespeare's Seasons

This picture book takes brief selections of Shakespeare's verse on the seasons and sets them against gorgeous illustrations. "The purest spring is not so free from mud." - Henry IV, Part 2
Tales takes seven of Shakespeare's plays-- Romeo and Juliet, Hamlet, A Midsummer Night's Dream, Macbeth, The Winter's Tale, Julius Caesar, and The Tempest-- and condenses them down into four-page long comics with fabulous watercolor illustrations.
This gem gives brief synopses of seven plays -- The Taming of the Shrew, Romeo and Juliet, The Merchant of Venice, As You Like It, Hamlet, King Lear, and The Winter's Tale-- and shares the folk tales that may have served as Will's inspiration.
William Shakespeare's A Midsummer Night's Dream

Bruce Coville masterfully retells this famous play as a fairy tale, with gorgeous illustrations from Dennis Nolan. There's a whole series of these! Try out Macb- ... *ahem* The Scottish Play, too.
Just out! Learn about the huge influence Shakespeare has had on the English language while also picking up tidbits about his life, Elizabethan theatre, and English history.
What's your favorite bit of Shakespeare? Leave a comment below.