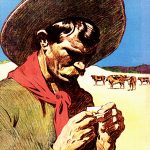 I don't know if it's just coincidence or a film production trend, but over the last several months or so I've happened upon a spat of new foreign language / foreign-produced films that are shot in fictional or historical Wild West settings.  Most were surprisingly good, I thought; surprisingly genre bending at times, too.  As Joe Bob Briggs used to say, check 'em out.
Ireland's take on the Yukon gold rush era - a mix of English and Irish Gaelic with English subtitles.
German language film with English subtitles, shot in a Bavarian Alps / Western setting.  Creepy plot, but I thought it was great.
British/Danish production; filmed in English
British/New Zealand production; filmed in English
---------
Honorable Mention:
I haven't seen this yet, and it doesn't technically fall under the same category (I think it's a US production), but with Natalie Portman and Ewan McGregor it kind of counts.