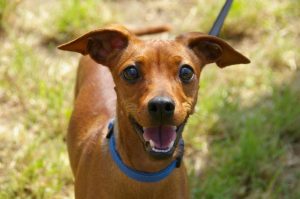 As a librarian I do a lot of reading. Seriously. There is just no way that I could sit down and snuggle up with a cup of tea every time I wanted to read a book or article. There are dogs to be walked, lawns to be mowed, housework to be done. None of these things can be skipped (for long) and the dogs absolutely will not be denied their walks.
What's the answer? Audiobooks! I didn't start out as an audiobook fan because my mind wandered when I tried to listen to them and I had to back up a lot. Eventually I got more focused as I got more addicted to having a story in progress everywhere I went. It started with audiobooks in the car, then as I cleaned house or mowed the lawn. Finally audiobooks joined my dogs and I on our walks. Now I can safely say I've covered several hundred miles with my dogs and some incredibly good books. Plus my house is tidy and the lawn isn't up to my ankles.
If you're ready to try some audiobooks on your commute, around the house, or on the trail you'll be happy to know that the King County Library System has thousands of titles to choose from in CD and downloadable formats. If you're doing our "10 to Try" challenge these suggestions can meet your audiobook challenge or even the new genre challenge if you haven't read much science fiction, comedy/horror or non-fiction.
The Boys in the Boat (Downloadable audiobook)

People kept telling me I had to read this book. I finally downloaded it and hit the trail to get it started. We walked for six miles because I didn't want to stop listening. The dogs were ecstatic. This book is also available in CD, large print, and there is even a children's edition.
14 (Audiobook)

Peter Clines is one of my new favorite authors. This science fiction/horror novel will knock you off balance with the way he bends reality. If you know H.P. Lovecraft's writing you'll see echoes of it all through 14.
Mark Twain's Helpful Hints for Good Living (Downloadable audiobook)

I hadn't read much of Twain since graduating from high school but this book reminded me just how funny he could be. The subtitle is: A Handbook for the Damned Human Race. You will laugh throughout this irreverent book as Twain shares stories, anecdotes, and cautionary tales. Also available in CD format.
Pride and Prejudice and Zombies (Downloadable audiobook)

Pride and Prejudice and Zombies: Now with Ultraviolent Zombie Mayhem!  Yup. That title pretty much says it all. This is another book that so many people told me I had to read. Lovers of Jane Austen and lovers of zombie books come together in giggly praise over this one. I've just started listening and have startled the dogs a couple of times as I laughed out loud while we walked. So far so good!