Help your child get ready for Washington State testing with Tutor.com! Test prep help is available for students in grades 3 - 8 and 10 - 11 who are taking the Smarter Balanced exams in school.
Log in to Tutor.com or Tutor.com en español with your library card to get full practice tests, online workbooks with practice questions, engaging videos, and more with the Lumos Learning StepUp to the SBAC program!
How to Find StepUp to the SBAC
After you log in to Tutor.com, scroll down to the bottom of the page where you will find the Prepare for a Test section. Then choose Prep for SBAC Exams.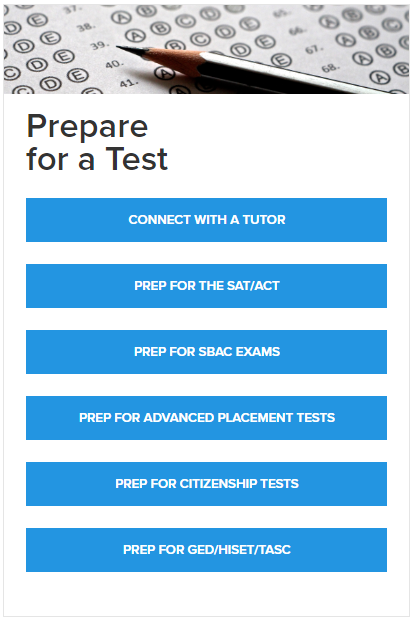 Next, click on the Start Prepping Now button. Once you are in the StepUp to SBAC program, you will see a menu where you can choose the grade level you want.

Video from Lumos Learning 
Let Tammy from Lumos Learning show you how to use the StepUp to SBAC program in this video.
More Information
For more information about Washington State testing, visit the website of the Office of Superintendent of Public Instruction.