Summer may be ending, but there is still TIME to READ!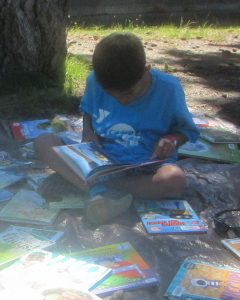 School is fast approaching and summer is quickly coming to an end, but there is still time to discover a great new children's book before summer wraps up. Our libraries are open and waiting for you. Visit your local library and find a new picture book to read aloud to your preschooler or perhaps a children's audiobook to listen to on your road trip to visit the grandparents.
If you have a child starting school this year, we have a great list of titles for you to share with them.
The library is hopping with activities and fun for your kids of all ages over the summer. If your child hasn't completed their summer reading program and picked up their summer reading halfway and finisher prize, there is still time! The Summer Reading Program runs through August 31, 2016, so drop by and sign up today to get your children reading. We look forward to seeing you at the library!