We got you, fam. We know what it's like when you have an amazing experience with a book or a movie --or, in this case, a musical-- and you want (NEED!) more of it in your life. For those truly dedicated Hamil-fans, the ones who've already read Hamilton: The Revolution a million times and knocked off the Ron Chernow biography like it was nothing, I took a deeper dive into our collections to see what I could find to hopefully leave you all... satisfied. =)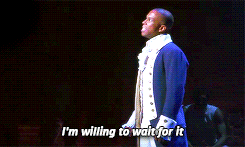 So let's start off with something light! Alex and Eliza (available in these formats) is a funny, breezy teen novelization of Hamilton's and Elizabeth Schuyler's love story. The author plays a little fast and loose with the historical record (what little we have) to tell a tale of young love from Eliza's point of view.

Scandalmonger (also available in print) is for those looking for something a little more dramatic. As an ambitious reporter in a fledgling US news industry looks for his next scoop, he finds himself working for Thomas Jefferson in an effort to smear his political rival, Alexander Hamilton. While diligently reporting on the Reynolds affair he finds his next scoop in the guise of his boss, who has more than a few secrets of his own.

If you're of the opinion that the Marquis de Lafayette is the best, try out Lafayette in the Somewhat United States, (available in these formats) a nonfiction account of the return of Lafayette to the United States thirty years after the end of the Revolutionary War as the country engaged in one of the most contentious presidential battles in electoral history.

If music is what you need, look no further than The Hamilton Mixtape (available in these formats). I'm sure you knew about this multi-artist collaboration album, but did you know you can stream it for free? You can use your library card and hoopla! And if you're looking to practice your karaoke skills, here's The Hamilton Instrumentals, so you can perfect your #Ham4All song before you record it.

Are you Hamilton obsessed? Let me know in the comments!