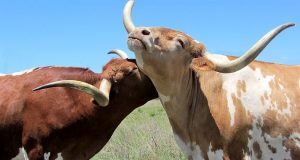 For the non-football fans, I'm referring to the University of Texas Longhorns, and not the cow. It'll be a long, hot, dusty road trip this summer to Austin, but as my only child starts the next chapter in his life as a grad student at the University of Texas, I'll need some music to soothe my aching heart. (It could also help with distracting me from my husband and mother-in-law in tow.) A good place to start could be with these albums so I can practice my Spanish, which is no bueno:
Fiesta Latina on hoopla featuring popular Latin artists, including Luis Fonsi and his fantastic song Despacito. I dare you to listen to it without dropping it. I DARE you.

Radio Universo by Chino & Nacho is on my list with that sweet song Me Voy Enamorando. It's also on hoopla and will make you remember that "falling in love" feeling...oh, so long ago.

Of course, it might make more sense to practice my Spanish on Mango Languages in our database. Just create an account and get access to lessons in a multitude of languages. Unfortunately, it doesn't have the beat I'm looking for. Don't hate me because I like to dance.
At some point, I'll need to get in some country. It only makes sense. I plan on starting with:
The Only Classic Country Collection You'll Ever Need

On it are a few songs that I had completely forgotten, like Freddy Fender's Before the Next Teardrop Falls, and Marty Robbins' El Paso. I've never been a country music fan, but I can appreciate the storytelling.
I've already padded my playlist with the Coal Miner's Daughter herself, Loretta Lynn, and Mr. Conway Twitty, but I'm sorely lacking in The Man in Black. I might put in this one with his cover of Nine Inch Nails' Hurt:
As we make our way to Arizona where we can explore the Grand Canyon and the slot canyons, I know there will come a point when I either want to drown out the conversations, or find something to help keep me awake. This is when I need music to sing to. I'm thinking of music from the 70s and 80s. KCLS has several compilations, but if you don't want to wait for them, you can stream them from Freegal. All you need is your library card and PIN.
Once we're in Texas, I might be so done with everyone else in the car I'm going to need some time to myself. I need some songs I can play over and over again. Something that I won't mind surrounding myself with. Right now, I think that song is going to be Disturbed's The Sound of Silence, but if you prefer the original Simon and Garfunkel version, you can always check it out at the library.
And then there's the road trip back to Washington...