When it comes to "bad" movies there are some that make me feel so bad I never want to watch them again, and then there are the ones I love to hate.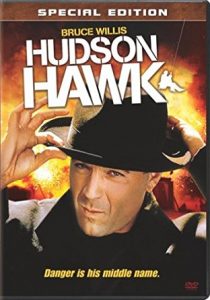 Like Hudson Hawk,* which is a 90s heist comedy starring Bruce Willis with an okay premise that takes a sudden turn through Weirdville en route to Stupid Town about halfway through: Hawk is a cat burglar who loves Frank Sinatra songs and is fresh out of prison when he's blackmailed into doing one last job, or his best friend gets it. This movie. I'm tellin' ya. It's *bad.* One minute Willis is timing a heist to "Swinging on a Star" and the next... well, I think I actually suppressed the rest of what happens to save my poor brain.
Oh, and did I mention that it's my partner's favorite film of all time? 🙄
Well, I asked around here at the library and it turns out that a few of my compatriots have at least one movie that drives them up a wall, so here's a selection of our favorite movies we love to hate:
This 1987 rom-com starring Cher and Nicolas Cage, about a woman who falls in love with her fiance's brother, is a classic. It's also "a giant puddle of fail," according to my awesome coworker, Alma. The dialog is strange, the accents are terrible, and the chemistry between the stars is just... non-existent. In fact, this film contains what is possibly the most awkward kiss scene in movie history.
This near-future time travel story, based on Hiroshi Sakurazaka's novel All You Need Is Kill, is about a soldier (played by Tom Cruise) who dies over and over again in order to try to defeat an invading force of aliens. And that makes for truly perfect viewing if you can't stand the guy, like my coworker Patrick. It's the little joys, you know. If you want to see the TC Smug Machine™ at work, try on this clip:

Star Wars Episode I: The Phantom Menace

By this point it is a nearly universally acknowledged truth that the Star Wars prequels were hot garbage, and I say this is a die-hard fan of the saga. To be honest, I was about thirteen years old when The Phantom Menace came out and I developed a massive crush on Ewan McGregor (weird pony tail thing and all) which means I could overlook all manner of sins in the film, but my coworker Kirsten pointed to it as one of her favorite movies to hate:
"I'm now fonder of it since we got to use it to fill a room full of parents and teens all shouting imprecations, insults, and throwing wadded up paper balls at the screen. So cathartic! So much fun! Now I'm glad it existed so we could Mystery Science 3000 the bazooka out of it."
That sounds like the quintessential love-to-hate movie relationship to me. (Sorry, Mr. McGregor.) Here's the scene that arguably kindled the most hatred among fans: (Don't worry; no Jar Jar. I'm not that cruel.)
Do you have a movie you love to hate? Tell me all about it! This is the place to vent, my friends! Let it out!
*I am not at all sorry to say that KCLS has the good taste to own not a single copy of Hudson Hawk, so you don't have to torture yourself with it unless you really want to. If you need to see evidence of the horror, check out the official preview in all its early 90s glory.
Save