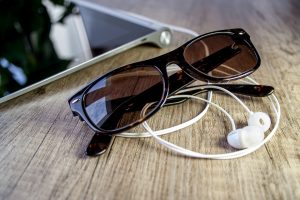 Most library users know about checking out eBooks and downloadable audiobooks from the library via OverDrive, but OverDrive isn't the only way to borrow downloadable audiobooks from the library! We also have a service called OneClickdigital. If you're an audiobook listener who hasn't tried OneClickdigital, there are two great reasons to download the app and give it a try.
First, most of the titles we have in OneClickdigital are exclusive, which means you won't find them in OverDrive. The collection includes Diana Gabaldon's epic Outlander series, which is now 8 books and over 350 hours (!) long. Narrator Davina Porter has nearly as many fans as the author herself. Want to try the books in audio format? You'll need to use OneClickdigital to listen to them.

If the exclusive collection doesn't convince you, maybe this will: most of the books in OneClickdigital are always available - that means no holds and no waiting! You will find a few audiobooks with waiting lists, usually the newest titles, but there are lots and lots of popular titles available immediately.
Red Rising won an Earphones Award from Audiofile Magazine for reader Tim Gerard Reynold's gripping narration. The CD version of the audiobook almost always has a waiting list, but you can download the audiobook any time.

Visit our OneClickdigital site to get started!