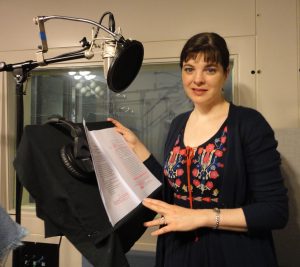 Katherine Kellgren just might be your new BFF.  Her voice will take you on daring adventures, into creepy woods, on sweet camp outs, and even fun cooking lessons. With a voice of gold, she has narrated more than 100 titles and has won many awards for her awesome character voices. She narrates everything from children's book to adult fiction and non-fiction.
Katherine lived in London for 12 years and during that time she studied at the London Academy of Music and Dramatic Arts where she had speech and dialect training.  With that kind of training, you can imagine what a marvel she is with different accents, dialects, and genders.  This year she won the Audie Award for 'Best Female Narrator of the Year' for her performance of Wild Rover No More'; the 12th in the Bloody Jack series.

Bloody Jack is my new favorite audio series crush.  Swashbuckling pirates, daring escapades, and a hidden identity... what's not to like?  Check out where it all began....
You can find Katherine Kellgren in the KCLS catalog.