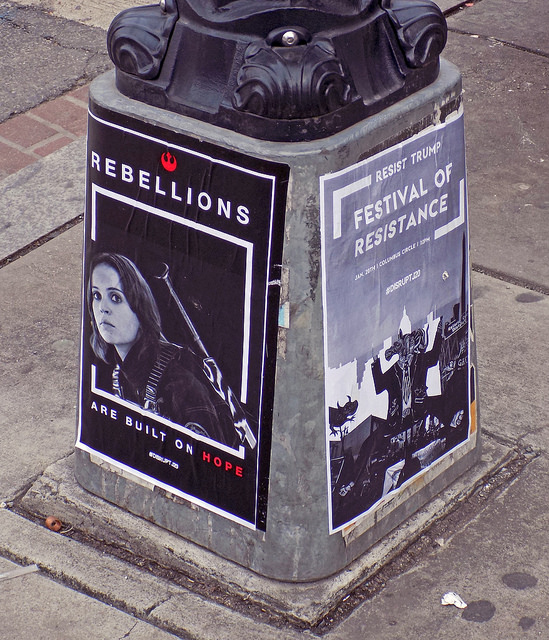 As you probably know, there are a lot of protest events going on in the greater Seattle area (and around the country/world) this week as a response to the inauguration of 45th US President, Donald Trump. The biggest one here is undoubtedly the Womxn's March on Seattle, which will take place tomorrow morning. The march begins at 10:00 am at Judkins Park and will end at the Seattle Center.
To celebrate the Womxn's March and our rights as citizens to peacefully protest, here's a playlist of awesome protest songs from women musicians that you can download or stream from our services Freegal and hoopla!
(All songs are available for download on Freegal unless otherwise noted.)
So here's to you, bad*** ladies, gents, and other folks!
This famous song was first drafted as a poem protesting American racism in 1937; Billie Holiday's version is arguably the most famous rendition. X Factor contestant Rebecca Ferguson also said she wouldn't sing at the inauguration unless she was allowed to sing this song.
Honestly, any Nina Simone song would do, particularly from her album, Nina Simone in Concert.
This one is a cover of a Woody Guthrie song about the posthumous treatment of a group of Mexican immigrants who died in a plane crash in California in 1948.
"This protest song denounces violence & the stereotypical view of immigrants. The song was born from M.I.A.'s frustrations of trying to secure a US work Visa (according to M.I.A. the paper planes in the song refers to the Visa)." from Spinditty
Jackson, known as "The Queen of Gospel," sang at the funeral of Rev. Dr. Martin Luther King, Jr. and played her own very important role in the Civil Rights Movement.
It's Aretha. Nuff said, right?
Ditto on Queen Bey.
The whole album is a masterpiece of social consciousness.
In an interview, Williams stated of the song, "It's a cautionary song because empires are doomed. They become more diffuse, more broke, demagogues rule, and so I was just pointing out some similarities between past empires and what's going on right now."
Ritchie, called "The Mother of Folk," wrote this song as a way to explore the effects of strip mining in Kentucky. Particularly relevant given all the promises President Trump has made to the voters in coal country.
Bonus track:
Queen - "I Want to Break Free"
Okay, one male artist! Because Queen is awesome.
This is by no means an exhaustive list, of course. Music greats like Bob Dylan*, Bob Marley**, and Kendrick Lamar*** are missing from this list because I wanted to focus on female vocal talent. Protest music is a wide genre; there's a right song for everyone.
Whether you support the protests or not-- whether you voted in the 2016 election or not-- it's important to remember that protesting is an honored tradition this country and is a right of every citizen. We're entering an unprecedented time; regardless of your political views you might find yourself wanting to engage in some protest or social activism in the coming years, and your public library will always be there to provide the information you need to exercise your First Amendment rights.
What's your favorite protest song? Let me know in the comments!
*Dylan's "Only a Pawn in Their Game" (track 6 on The Times They Are A-Changin') is a great one to start with, but that whole album is fantastic.
**Marley's "Them Belly Full (But We Hungry)" (track 3 on Easy Skanking in Boston '78) (hoopla) is another great one.
***Lamar's "Alright" (track 7 on To Pimp a Butterfly) (hoopla) has become a de facto anthem for the Black Lives Matter movement.
UPDATE 1/26/17: Hey! Did you hear about the protest song that was created for the Women's March? This clip from Full Frontal With Samantha Bee will get you up to speed. #Resist