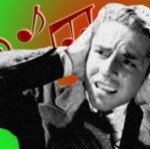 Tired of Raffi's voice endlessly rolling through your mind singing about "Biscuits in the Oven" or Shaking Sillies all over the place?  Have you sworn never, ever to listen to the Frozen soundtrack or anything with the words Kidz Bop in it again?  Does the phrase "play it again!" make you begin to quietly weep?  Not to worry!  There are lots of other musical options out there that will have you belting out tunes right along with your child and hitting repeat without breaking into tears.
If a little bit of complexity in the music would be greatly appreciated then Harmonica Pocket is your go to group. The harmonies are often haunting yet toe tapping in songs like "Turkey in the Straw" and "Apple Apple" from their third album Apple Apple .  All of their albums will offer you a feast of interesting lyrics and tunes to shake up your playlist.

Rock it out with the group Here Comes Trouble and their album Goo on My Shoe.  You'll be dancing around to the "Alligator" song or grooving (seriously) to "Watermelon Felon".

Ladysmith Black Mambazo is a treat for parents and kids!  If you have a love of Paul Simon's Graceland you will get chills listening to the songs by this amazing a cappella group from South Africa.  They have many albums for adults and a few aimed right at kids. Songs from a Zulu farm includes Old MacDonald Had a Farm Zulu Style that the kids will recognize right away.

When you want to bring it down a notch add Kira Willey to your playlist.  "Dance for the Sun" on Mindful Moments for Kids is a lovely start to any day.  Dad will be the star of the show when you play "Dancing With My Daddy" on How to Be A Cloud.  Much of her work is inspired by yoga so you may feel like stretching along to the tunes.


Award winning jazz singer Diana Panton has released her first children's album I Believe in Little Things.  If you're a jazz fan and want to share that love with your kids then this is a fantastic introduction to the easy sound of jazz music with rich vocal work by Diana.  It's like lounge music for kids and it works!