There's one week left to join readers all over the world in this summer's Big Library Read!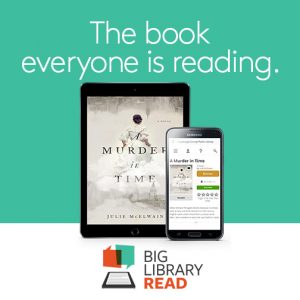 In case you missed Hope's full rundown of the Big Library Read last week, here's the quick and dirty version: it's a digital book club for public libraries that makes one eBook instantly available to anyone with a library card and internet access - that means no holds and no waiting!
This summer's pick is a time-traveling mystery about an FBI agent transported to 1815 - she's desperate to get home to the 21st century, but when a dead body is found at the manor house where she's living, her crime-solving skills kick in. With shades of Outlander and The DaVinci Code, plus a truly creepy villain, A Murder in Time is a perfect book to take to the beach or the pool (just don't drop your eReader!).

Through July 7, KCLS patrons will have unlimited access to A Murder in Time. Check it out above, or visit the KCLS OverDrive site to borrow it and browse other eBook titles. Once you've read the book, come back and let me know what you thought - and don't forget to rate it or leave a comment in the catalog and earn a badge for summer reading!
If you're new to borrowing eBook from the library, check out the FAQs below for help getting started.