Welcome to another edition of Humans of Libraryland, where I tell you all the juicy details about the lives of the folks who staff your local library! Do we really need to get a cat before we can work at a library? (Of course not.) Do we really spend a significant amount of time visiting other libraries when we go on vacation? (Uh ... yes.) All this and more coming up!
This week we're chatting with the woman who helps make all of our children's and teen programs happen. Also, *spoiler alert* she's a published author! Say hello to Deborah Schneider, Public Programming Coordinator at the Service Center in Issaquah!
---
Name:  Deborah Schneider
Position: Public Programming Coordinator
How long have you been in your current position?
16 ½ years
How long have you worked for KCLS?
18 years. I worked as Page for 2 years, then had another job before returning to KCLS in my current position.
What are your job duties in a sentence or two?
I'm responsible for planning and coordinating over a dozen central program series for children and teens. That means I get to work with performers, artists, authors, musicians –lots of very talented people.
What is your favorite book? Why?
As a child, The Secret Garden, because I thought discovering a secret place where I could hide would be wonderful.

As an adult, Year of Wonders by Geraldine Brooks, because it introduced me to a new time and place I hadn't read about before. It's a book about the plague, so not the happiest of subjects, but the way the characters in the book deal with adversity is inspiring.

Are you Team Book or Team eBook?
I read both, depending on what's available first from the library.
In which Hogwarts house would the Sorting Hat place you?
Ravenclaw, because I value learning and creativity.
What's the last book, movie, or TV show that made you cry?
This Is Us (link to series premiere on NBC.com) almost always makes me cry.
(Chances are we will get this series at the library once the series is out on DVD. - The Editor)
What is something you've learned in the last week?
At one of the library programs I attended I discovered that the word "Brontosaurus" is back! For many years its name was changed to Apatosaurus, but now scientists have decided they are two different dinosaurs.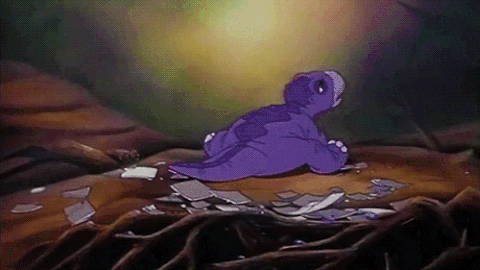 Where do you most want to travel, but have never been? Why do you want to go there?
Norway, Sweden, and Denmark because I've heard so much about how happy the people who live there are and I want to see for myself what the secret could be.
If money was no object, what would you do all day long?
Write. I'm a published author but there never seems to be enough time for writing.
What is your theme song?
If by Bread (Track six on The Best of Bread - The Editor) was the song I walked down the aisle to at my wedding. Whenever I hear it, I remember that day – and my marriage has lasted over 40 years – so maybe there was some magic in that song.
When you were a kid, what did you want to be when you grew up?
A teacher, and I have a degree to teach secondary education Social Studies. But I became a Community Education Coordinator for a school district early in my career and I was hooked on creating programs to provide services to the rural district where I worked, which eventually gave me the skills for my current job.
If you could witness any event past, present or future, what would it be? Why? 
I'd like to attend the inauguration of the first female President of the United States. I think it's time that women have more opportunities to participate in governing our country.
What's your favorite thing about your job?
I get to meet interesting people, including many artists and performers. I work for months in advance planning the programs, and attending them to watch how our patrons react is always fun.
What is something many people might be surprised to learn about you? 
I'm the author of seven novels, two novellas and two short stories. I love writing, and I've been published by a NY publisher, a well-known small press, and am an Indie author. I write under my own name and under a pseudonym, Sibelle Stone.
---
Thanks for the chat, Deborah. You sound like you have the coolest job and I'm totally gonna have to read one of your books! Maybe Promise Me?

If you want to read any of Deborah's novels, here are the ones KCLS has under her real name, and here are the books under her pen name, Sibelle Stone. Happy reading!
Is there a question you've always wanted to ask library staff? Or someone you think I should interview? Let me know in the comments!