Hello, and welcome to another edition of Humans of Libraryland, where I interview all sorts of KCLS employees to give you a sneak peek into our lives and personalities! What do we really think about the summer reading program? (We love it, fyi.) And what do staff people do when they go "in the back?" All these secrets and more may be found within!
This week, we're chatting with a fantastic lady who works the circulation desk like a pro. Say hello to Genesee from Burien!
---
Name: Genesee R.
Position: Library Technical Assistant
How long have you been in your current position?
Coming up on seven months.
How long have you worked for KCLS?
Including my substitute days, since August of 2016.
What are your job duties in a sentence or two?
As an LTA I am in charge of patron accounts and circulation questions, along with fostering relationships with folks so they feel comfortable coming to the desk with questions. I also troubleshoot technology related problems, from helping people use OverDrive to fixing a paper jam. I recently joined the Staff Recognition Committee, in which we are working to create a culture of appreciation.
What is your favorite book? Why?
This is a difficult question for me! I don't know if I have an all-time favorite. My most recent favorite is the second book in the Wayfarers series, A Closed and Common Orbit by Becky Chambers.

This book explores themes that are close to my heart: personhood, gender fluidity, body politics, and family, to name a few. Becky Chambers has a gift for writing character-driven stories within an engaging plot. This book is one I could reread several times and still have passages on which to meditate.
Are you Team Book or Team eBook?
Team Book! While I love the convenience of eBooks, I still prefer to read in the traditional format. That being said, I have never read on an eBook device with the adjusted screen settings. Still, you can't replace the smell and feel of books!
In which Hogwarts house would the Sorting Hat place you?
Growing up, I was convinced I would be in Ravenclaw. But, according to the Pottermore test, I am in Gryffindor! I identify with the Hermione-types more than the Harry-types.
What is something you've learned in the last week?
Last week I learned what a bullet journal, opens a new window is. A bullet journal is a personalized (and modular!) schedule and journal combo that can be as basic or ornate as you would like it to be. Looking for hours of fun? Check out the YouTube videos, opens a new window explaining the ins and outs of bullet journaling! This new hobby is a perfect union between my type-A need to organize and make lists for everything side, and my creative side that likes to craft.
What's the last book, movie, or TV show that made you cry?
It is rather embarrassing but I get weepy every time I see Beast die in Beauty and the Beast. It first happened while I was pregnant with my kid and re-watching movies from my childhood. I haven't been able to shake the habit (10 years and counting) so I imagine I will always cry during this scene, despite knowing the happy resolution.

I have seen the new Beauty and the Beast, opens a new window movie twice in theaters and I cried each time. Ridiculous, I know!

Where do you most want to travel, but have never been? Why do you want to go there?
I really want to go to St. Petersburg! I loved reading the Russian classics in high school and college and would love to do a literary tour of St. Petersburg. Perhaps see the White Nights, opens a new window (when the sun never sets) in person? The city has a very interesting history that could keep me preoccupied for years.
If money was no object, what would you do all day long?
If money were no object I would love to spend my days as a community organizer and running book clubs. I do both in my spare time but I'd love to do more! I wouldn't mind also being a Book Riot, opens a new window contributor, what a dream team to work with!
What's your theme song?
"Hey Jealousy" by the Gin Blossoms. (Track 12 on Gin Blossoms: Live in Concert, opens a new window. - The Editor) While it is not my favorite song, nor do I feel it describes me, it is certainly one of the most memorable for me. I used to belt out the lyrics with my Dad and I was convinced (for years) that the song went "Hey Genesee". For a kid who never saw her name monogrammed on anything in gift shops, this was a big deal! While it was a big bummer when I realized my mistake, the disappointment was tempered slightly by my understanding of the lyrics as I got older.
When you were a kid, what did you want to be when you grew up?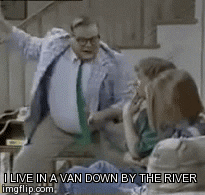 My first desired profession was to be an artist. I was going to live in a trailer that would double as my studio. I would park it at Richmond Beach, paint the sunrises and sunsets, and live off the proceeds.
If you could witness any event past, present or future, what would it be? Why?
I would like to revisit the last family camping trip I went on. I was with my 4-year-old sister and my mom. We went to some of the most beautiful places I've ever seen in Washington and had so much fun together. It is one of my cherished childhood memories.
What's your favorite thing about your job?
My favorite thing about my job is the capacity for impact. We who work in libraries are facilitators, we make dreams, goals, and needs accessible. We are in a position to have a positive impact on a person's quality of life and I find that opportunity very rewarding.
If you had time for another hobby, what would it be?
I would go back to playing Gaelic sports, opens a new window (camogie and Gaelic football). I love the continuous play and the team aspects, and the community can be tons of fun!
---
Thanks for the chat, Genesee! Camogie sounds like a blast. (Also, please forgive me for the Matt Foley reference. I couldn't help it!) You're totally awesome!
Do you have any burning questions for your library staff? Let me know in the comments!