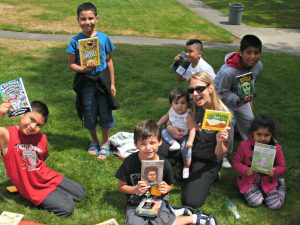 Did you know 68% of all direct library program costs are funded by community donors through the KCLS Foundation? You can join this important effort by making a donation to the KCLS Foundation on GiveBIG - May 10.
GiveBIG, in its 6th year, is a one-day online giving event to raise funds for the many great nonprofits in our area. Hosted by the Seattle Foundation, GiveBIG encourages all Seattle-area residents to show their love for their favorite causes. Join the GiveBIG movement by making a donation to the KCLS Foundation in support of your favorite library.
Your donations to the KCLS Foundation fund programs and services for all ages at each of the 49 KCLS libraries. This year, your support brings:
Summer Reading programs to kids, teens, and adults including reading challenges, free activities like STEM (Science, Technology, Engineering, and Math) workshops and story times, and mobile outreach in parks and community centers;
Healthy meals and snacks, along with free books, to thousands of kids in underserved neighborhoods;
Free Wi-Fi hotspots available for check-out to areas where the lack of affordable internet access means that 25% of residents don't have Wi-Fi at home;
Diversity and Inclusion programs to our vibrant and diverse libraries, such as the Rainbow Teen Advisory Board, Fiestas early literacy program for Spanish-speaking families, and the Literacy Towards Citizenship course for new immigrants; and
An expansion of the ideaX program for all ages which teaches a range of skills and technologies across five modules – electronics, robotics, 3D printing, digital media, and game design – with plans to grow (including a dedicated ideaX space at the Bellevue Library coming soon!).
If you love your library, please consider making a donation to the KCLS Foundation on GiveBIG - May 10. Help us reach our GiveBIG goal to raise $20,000 for the amazing library programs listed above! You can schedule your donation anytime between now and May 10 by visiting the KCLS Foundation's Give Big page.
Happy Reading!
Paige Schultz
KCLS Foundation staff