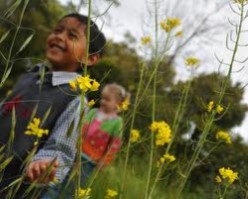 Is it raining? It doesn't matter! We are proud and slightly soggy Pacific Northwesterners and WE DO NOT FEAR A LITTLE RAIN! You have to say that with great gusto while standing majestically in a windswept field... or something like that. Maybe just standing in your living room would work too. Either way, it's time to get your family outside and playing because spring has sprung and summer is peeking around the corner.
There is an amazing array of books about why we should get out in nature as often as we can and what to do once we get there. Here is a small sampling of some of the best to inspire your outdoor adventures.
Richard Louv coined the phrase nature-deficit disorder in his book Last Child in the Woods. His basic premise is that our kids aren't getting enough real world, outdoor play time. Last Child in the Woods addresses the reasons for this and now Balanced and Barefoot takes it to the next level with great ideas you can use to engage children in nature. Vitamin N is another recent book from Louv about the healing aspects of nature.
Author Scott Sampson has created an easy to use guidebook for parents who want to get their kids out and about in nature. Activities and advice on getting your family out breathing fresh air and looking for fun.
Yes, books! Maybe it's because I'm a librarian but I think books go beautifully with the great outdoors. This one talks about how to select excellent nature books, has tons of annotated books to use and provides activities for exploration using them and also includes songs and traditional tales. The books are aimed at children up to ten years of age.
Sometimes 15 minutes is all you have and this book will help you use those minutes well. The subtitle is 365 Ways to Get Out of the House and Connect With your Kids. What a brilliant idea! Simple, creative, and inspiring activities will get you and your kids outside every single day.
There are also excellent online resources to kickstart your outdoor adventures. Here in King County, Washington we are blessed with amazing park and trail systems. Washington State, local cities, and King County all have resources you can use to plan outings a little further afield. I use King County Parks' TrailFinder all the time to discover new places to walk, climb, or play. Read some books, explore some park websites, and then put your raincoat on and go outside and play. Have fun!