SPOILERS AHEAD-- IF YOU HAVE NOT SEEN GET OUT YET, AVERT YOUR EYES! 
Okay, everyone, you've been warned. This is now a spoiler zone, so let's talk about Get Out. In my opinion, this movie did an excellent job of portraying two of the most terrifying elements of real life in today's America: humans and racism.
Some of my favorite types of scary movies are the ones where humans are the source of the real horror, and Get Out is a perfect example of this. The suspense, the palpable discomfort, the jump-scares in Get Out never result in a gruesome monster, never a cannibalistic zombie epidemic, never a terrifying specter. Instead, the real nightmare that we witness is the darkness of human nature, a darkness that resides in people we are conditioned to think of as "normal" (well-to-do white people).
For a classic example of this, look to George Romero's Night of the Living Dead. 
Night of the Living Dead (also available to stream via hoopla, opens a new window)

Okay, there are zombies in this film, but, in my opinion, that's not the scariest part of the movie. For me, the most disturbing part is what happens to the only black character, and it doesn't happen until the end of the film (turning the "black guy dies first" horror model on its head). If you haven't seen this movie ever or if you haven't seen it in recent years, watching it now will feel disturbingly relevant to the themes of Get Out.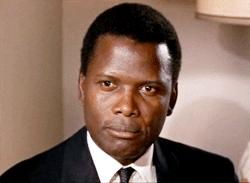 When I first watched Get Out, I couldn't help but think of a childhood favorite of mine, Guess Who's Coming to Dinner (I was a weird kid, okay?). This is a classic "white-girl-brings-home-black-guy-to-white-parents-and-racial-tension-ensues" story starring the inimitable Sidney Poitier. It's clear that Guess Who's Coming to Dinner greatly influenced director Jordan Peele, and he's taken that idea to the next level in Get Out. Peele has portrayed racism (and the underlying fear that accompanies racism) as something truly horrific, rather than something that is merely uncomfortable. In doing this, he's provided us with a Guess Who's Coming to Dinner for a "post-Obama" era.
Check out this list for even more films to try if you loved Get Out!