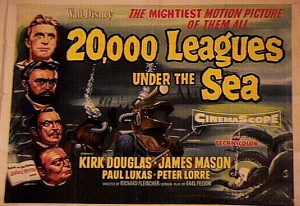 Ah, the golden days of G rated movies. Want to go back to the time when going to the movies didn't require the alphabet soup of categories to figure out whether or not the whole family could go to the movies together? Hoopla offers a great assortment of family friendly movies that you can stream directly from the library. Need a big adventure or a lot of laughs, here are a few to choose from that might be just what you need for a family night at home. Don't forget the popcorn!!
Robert Louis Stevenson's Treasure Island

Hit the high seas with Long John Silver, Billy Bones and Jack Hawkins in this classic adventure of hidden treasure, pirates and tropical islands. Eye patch optional!
How can you not love a teenage boy who magically turns into a shaggy dog. While trying to turn himself back into a boy, he discovers a ring spies and helps to solve a mystery. Hooray for man's best friend!
Bob Hope and Bing Crosby bumble their way through the far east in this black and white comedy classic. Lots of singing, dancing and general zaniness, fun, fun, fun!
Jules Verne's 20,000 Leagues Under the Sea

Join the crew of the Nautilus as they dive deep into this undersea epic. Rescued from the ocean when their ship sinks, the sailors must join Captain Nemo on his submarine and battle the giant squid.
A wonderful survival story of three animals that travel hundreds of miles in the Canadian wilderness to get back home. Along the way they face dangers that test their friendship and their courage. A wonderful story of determination and love.
Ever felt like your car had a mind of it's own? It drove faster than you wanted to go or turned a corner a little too quickly? Well, meet Herbie, a VW bug that thinks for itself and isn't just along for the ride!