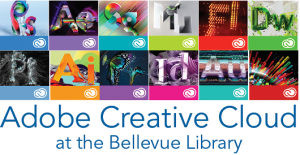 Create breathtaking graphics, edit astonishing videos, illustrate original images, or go wherever your imagination takes you with the Adobe Creative Cloud collection of apps available now at the Bellevue Library.
Industry standard software programs for a variety of creative fields like Photoshop, Premiere, InDesign, and Illustrator are installed on eight computers in a computer lab on the 2nd floor of the Bellevue Library. Library users can explore on their own or attend a class on a specific topic taught by library staff. Recent classes include Retouching Photographs in Adobe Photoshop and Basic Movie Editing in Adobe Premiere.
The programs have been available since late 2015 thanks to a starter grant from the King County Library System Foundation. One popular use of the software that aligns well with the library is self-published authors who use InDesign to format their books for publication and Photoshop to design book covers.
Ready to explore for yourself? Drop in for open lab time on Tuesdays from 5:30 to 8:30 pm, attend a class, or make an appointment by calling 425.450.1764. We can't wait to see what you create!