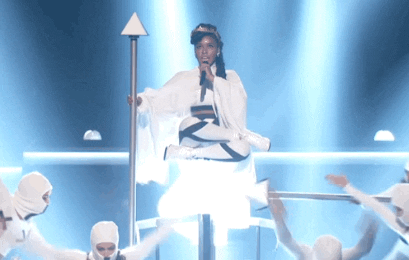 I've been on a mission to figure out this whole hoopla thing, our new(ish) service for streaming music, movies, and comics, and I figured what better way to start than by looking for materials to satisfy my obsession with all things Afrofuturism!
For those new to the term, Ytasha L. Womack, author of Afrofuturism: The World of Black Sci-Fi and Fantasy Culture, says that, "both an artistic aesthetic and a framework for critical theory, Afrofuturism combines elements of science fiction, historical fiction, speculative fiction, fantasy, Afrocentricity, and magical realism with non-Western beliefs. In some cases, it's a total reenvisioning of the past and speculation about the future rife with cultural critiques."
Since the genre encapsulates such a broad range of artists and mediums, there are a lot of titles to choose from. Below are just a handful of items I was excited to come across as I explored all that hoopla has to offer!
---
Film
---
Crumbs is a stark and surreal tale that follows the last vestiges of humanity in present day Ethiopia, a handful of scattered individuals who count the apocalypse as a distant memory, trade in ancient relics (plastic toys and memorabilia from the late 20th century) and live under the shadow of a long-dormant spaceship.
The Nine Muses is a 3-film collection from director John Akomfrah thatcontains the 45-minute documentary The Last Angel of History, which uses Afrofuturism as a way to look at African diaspora and to examine the displacement of Black culture.
An Oversimplification of Her Beauty is a semi-animated feature that explores the filmmaker's failed relationship with a former flame. The creative and varied use of different animation styles puts the film somewhere between documentary and fantasy in feel.
An Oversimplification of Her Beauty

---
Music
---
One of the most mainstream artists in the genre today, Janelle Monae has helped to repopularize Afrofuturism in the 2010's after it enjoyed a level of popularity in the 1990's. The Electric Lady is her newest effort, by we also have her older albums, Metropolis: The Chase Suite, and The Archandroid.
Shabazz Palaces and THEESatisfaction are two local Seattle artists on Sub Pop Records that bring atmospheric, other-worldly sounds to the genre
If you're interested in the roots of Afrofuturism, there is also a large selection of albums by iconic Afrofuturist artists Sun Ra and George Clinton (as well as Funkadelic and Parliament).
---
Comics
---
Concrete Park is a fast-paced graphic novel focuses on a post-apocalyptic prison planet and follows the exploits of several of its prisoners. It has so many good things going on- a whole cast of Black characters, tons of action, turf wars, a lesbian couple madly in love, shape shifters, and female characters with real agency.
---