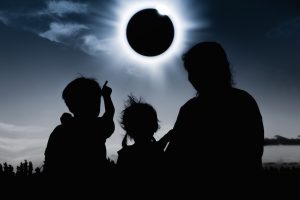 We're glad you're excited about the upcoming eclipse! The library is here to help you make the most of this amazing opportunity to learn about our universe.
Does my library provide eclipse glasses?
You may have heard reports that libraries have eclipse glasses to give away. KCLS is not a participant in the grant that made these available at some other systems. However, a few KCLS locations do have a very limited number of free glasses on hand, while supplies last. Please call your local library before you visit to see if they have glasses available.
Important Safety Information: The American Astronomical Society warns that there have been "reports of potentially unsafe eclipse viewers" on the market, and has issued these recommendations for ensuring your viewers are safe.
How can I view the eclipse safely?
NASA reports that "observing the Sun can be dangerous if you do not take the proper precautions." The American Astronomical Society has issued these guidelines for safely viewing a solar eclipse.
NASA has created these handy printable eclipse safety guides in English and Spanish:
How to View the 2017 Solar Eclipse Safely
Como Ver el Eclipse Solar del 2017 con Seguridad
How can I learn more about the eclipse?
Want to share your eclipse enthusiasm with your neighbors? KCLS is hosting a variety of programs, like information sessions and viewing parties, around the county.
Prefer to learn on your own? Our online resources are full of eclipse information, and available even when the books are checked out. Find quick clips or full-length films, like "The Total Solar Eclipse of 2017" or "5 Fantastic Solar Eclipse Facts" in Access Video. Get instructions for an eclipse simulation your family can do at home in Science Online. Or visit the History Study Center (and log in with your library card number and PIN) to find out how the 1919 solar eclipse made Albert Einstein a household name.
Have fun!
Let us know in the comments how you plan to learn about or experience the eclipse. Personally, I'm planning to download Total Eclipse of the Heart (log in to Freegal with your library card number and PIN) and blast it on repeat until August 22.