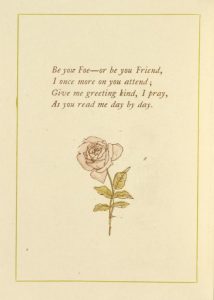 Every April is National Poetry Month. And every April I pick out a few collections and fall back into my love/hate relationship with poetry. It is similar to the love/hate relationship I have with salad. I feel that I should eat salads. They are, generally speaking, healthier than a pizza or a burger in the same way a poem is more intellectually challenging than say, a romance novel. Poems are coy by design and can make you feel like you are missing something. I often feel that way after I eat a salad too. Salads can get stuck in the teeth, and poetry gets stuck in the brain. Bad salads mean too much dressing or wilted greens and bad poems come unnecessarily obtuse and loaded with florid language.
I could go on with this very unpoetic metaphor, but instead I will tell you about a few modern poets you may not have heard of to help you avoid the wilted iceberg lettuce of the poetry world. I have included what I loved and what I struggled with so that you can find the right flavor for your own literary struggles with this challenging art form.
There Are More Beautiful Things Than Beyoncé by Morgan Parker
Morgan Parker is an award-winning poet who earned a National Endowment for the Arts Fellowship for 2017. This volume is her second collection of poems and just came out this year. It deftly weaves pop culture references into poetry. Ms. Parker's work is about culture, society, race, and experience. It is raw, and challenging.
What I love: The clever titles for the poems, like the title of the book, grab your attention and add to the work. Do I want to read "99 problems" or "Freaky Friday Starring Beyoncé and Lady Gaga"?  Yes, so very yes. And while these poems draw on personal experience they are also relatable and meaningful.
What I struggle with: Some of the concepts these poems raise are hard to deal with. Racism, feminism, confronting the hypocrisy and impossible standards of our society is heavy stuff. I both love that about these poems and hate it. Confronting that kind of art is hard work that challenges my world view, and makes me want those poems about falling cherry blossoms back now, thank you.
Also of note: This collection has some decidedly adult language. The pop culture references may have you thinking of the young persons in your family, but take a look before you share so you can decide if the maturity level is right for your teen.
There Are More Beautiful Things Than Beyoncé

There Are More Beautiful Things Than Beyoncé (eBook)

Nick Virgilio: A Life in Haiku by Nick Virgilio
If you were exposed to haiku in school, you probably remember four facts: 5-7-5, from Japan, seasons of the year, and cherry blossoms. Those things are true, but they miss the real power of the haiku. A good haiku can describe a scene that puts you in a place, in a moment in time, and a state of mind. It is a time machine, a teleportation device and telepathy in a very short poem.
What I struggle with: The great works of Haiku originate in Japan in the 1600s, and while beautiful, they are very removed from my modern suburban life. The cultural cues that this spare art form would have used in its original language on people who lived in that time do not work for me. So while pretty, I don't really get much out of classic Haiku. Modern poets imitate this nature-heavy style. Nick Virgilio has a few nature poems, but most of his work is something more.
What I love: Nick Virgilio gets what Haikus can be. He writes about things I understand, a more urban life. He writes about his brother's death in Vietnam by talking about the oil stain his car left behind. He writes about feuding neighbors, and spending Thanksgiving alone. With short poems, he transports the reader to times, places, and emotions we can understand.
Monsters, Zombies & Addicts by Gwendolyn Zepeda
Zepeda offers another keen set of eyes examining our modern world, and tells us about it in simple language. She served as Huston's first poet laureate from 2013-2015. For a good taste of what this collection is like try 'Yesterday at Target' on page 54.
What I love: Zapeda writes in clear modern language which helps me connect with the poetry. Her collection is yet another example of poetry with alluring titles. With poems called 'TV Bonding Time', 'Babies wearing Skinny Jeans', and 'Fluffy' you cannot help but read them.
What I struggle with: Simple words are hard to escape when they take on hard truths. Be ready for a few if you take on this collection. While not dark, it is not all cherry blossoms and maple leaves.
The Door by Margaret Atwood
Margaret Atwood is best known for her dystopian novels but early in her career she wrote quite a few volumes of poetry. She returned to the form in 2007, putting together a collection that is both typical of Atwood and a bit different. Her poetry touches on our relationship with nature, contemplates aging, family, and, home, and contains a sprinkling of autobiography. There is also a wonderful section on poetry (pg. 23-43) that should not be missed.
What I love: Margaret Atwood. She has a unique voice and way of seeing the world I have always enjoyed in her novels and you can hear that same voice in her poetry as well. Her subject matter is accessible and relatable, and if you have been missing nature in all of the previous volumes, Atwood gives it to the reader in a way that is meaningful. She also has a number of poems about cats that made me smile.
What I struggle with: Margaret Atwood is best at ideas. She is not bad with words, she uses them with precision and care, but I have read poetry with more beauty to it. This is not the collection to let you revel in words, but images, ideas, and meaning are here in spades.
The Door (eBook)

The Lunatic by Charles Simic
Simic is a poet who has written twenty books of poetry. An immigrant who came to the United States in 1954, he has won numerous awards that suggest a distinguished career as a poet. I confess, this is the first book of his poetry I have read, so if you are new to his work, you are not alone.
What I love: This collection is just simply poetry. The words in these poems just seem to fit together.  Sometimes I think I understand the author, other times I don't, but for some reason I don't mind so much. His poetry is rooted in daily life and covers a broad range of subjects. Check out 'In Its Own Sweet Time' on page 14 for a lovely poem on aging.
What I struggle with: Not too confounding and not plain, Simic is just a master poet as far as my eyes can see. This collection has been my favorite find this April.
I hope sharing my struggles with poetry will help you feel empowered to take on your own. Have a poetry collection you love/hate? Or maybe just love? Share it with us in the comments section.