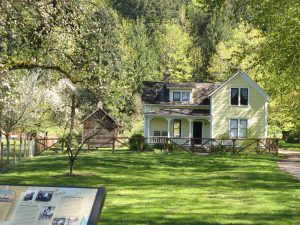 Read the book and live the history! King County Library System, South King County Culture, and three fantastic local historical societies have collaborated on this unique book club opportunity for families. Bookmarks and Landmarks Junior allows families to really dive into the history of our area and explore a general store in Maple Valley, a mansion in Auburn, and a farm in Kent. And all while reading excellent books!
First off, on Saturday, February 18 at 10:30 am, we have Mailing May by Michael O. Tunnell at the
Gibbon-Mezzavilla Store Museum. The museum is just across the street from the Maple Valley Library which makes it a perfect location for history and reading to meet up. Mailing May is a picture book geared toward ages 5-8 and is based on the true story of a young girl in 1914 whose family "mailed" her by train to see her grandma. There will be activities and games based on the story and time to explore the museum as well. Books are limited and available upon registration.
Next, on Saturday, March 18 at 10:30 am is the chapter book Thin Wood Walls by David
Patneaude at the Neely Mansion in Auburn. This one is particularly exciting because the author will be there to talk about his book! Ages 10 and older will get to try their hand at Haiku, tour the museum, and talk to the author! Place a hold on a copy of the book through your library.
To wrap things up on Saturday, April 22 at 10:30 am is the book Our Only May Amelia by
Jennifer Holm at the White River Valley Museum's Mary Olson Farm in Kent. Find out what life
on a farm was really like in the book, meet the animals, and discuss the book in the barn! This is a chapter book experience for Ages 10 and older. Place a hold on a copy of the book through your library.
There is something for readers young and old! Each event has separate registration and limited space so sign up, get your book, and start reading as soon as registration opens online!