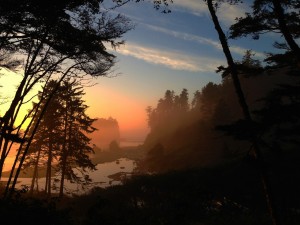 2016 marks the National Park Service's 100th birthday! To celebrate, KCLS is offering classes that help you channel your creativity by sketching and painting landscapes. When this opportunity came up, I jumped at the chance to bring it to the Issaquah library. I am definitely not gifted in the art department, but I love our National Parks and feel fortunate to have three in our backyard.
I think so many of us find our parks with an adventure in mind. I know I always look at the top hikes in a certain park and plan my trip around them. Molly Hashimoto is going to teach us a new way of exploring America's lands. By sketching what we see around us, we take time to appreciate the park and gain an understanding of why it was protected for future generations. I am hoping to bring what I learn to my Volcanoes National Park trip this summer. Maybe I can capture the essence of the Kilauea Caldera at dusk with paint. My cellphone camera never seems to be up to the challenge.
Who knows, maybe you'll find your calling and become an Artist-in-Residence at a park? They're hiring!