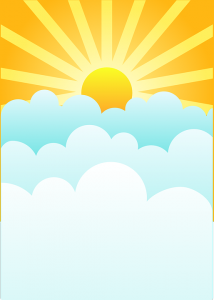 Spring is here and that means the sun has (mostly) returned to the Pacific Northwest. Celebrate by checking out a few items named after this beautiful celestial body.
Sunshine knows many things. She knows how to bake cinnamon rolls. She knows she is the daughter of a powerful sorcerer. And she knows never to go to the lake alone. But sometimes a need for solitude overpowers common sense and Sunshine, having gone to the lake and been seized by vampires, finds herself dressed in a blood-red ball gown and shackled to a wall in a decaying mansion. She is supposed to be a sacrifice, a meal for the vampire trapped in the ballroom with her, but when dawn breaks she is still alive. Now it is up to Sunshine to save herself and the imprisoned vampire, Constantine, from their captors.
In the year 2057, the sun begins to die out. In a last-ditch attempt to save humanity, a crew of astronauts embarks on a mission into space. The objective? Restart the sun with a massive nuclear bomb. After months in space, the loss of radio contact with earth jeopardizes the mission and the crew suddenly finds themselves facing an obstacle they never imagined.
Child beauty pageants sound awful, right? And yet somehow that cringe-worthy concept provides the basis for the funny, touching film Little Miss Sunshine. Seven-year-old Olive wants nothing more than to win the Little Miss Sunshine beauty pageant. Despite their misgivings, her deeply dysfunctional family decides to take their VW bus on a cross-country road trip to help Olive achieve her dream.
Based on the YouTube series of the same name, this spooky story begins when sixteen-year-old Sunshine and her mother move from Texas to Washington state. Almost immediately, Sunshine senses something creepy about her new house. Her mother doesn't believe her, but Sunshine knows that something is wrong and she sets out to solve a mystery that will pit her against the ghost that threatens her mother's life.