It's happening again. The bizarre and beloved cult classic Twin Peaks has returned to the small screen. For the unfamiliar- Twin Peaks was a television series, on air in the early 1990s. It is set in a sleepy Washington town full of dark secrets and quirky characters. The show's creator, David Lynch, is known for his surreal and singular approach. Critics often cite Twin Peaks as responsible for ushering in a new golden era of television, paving the way for complex, cinematic dramas like Mad Men and prestige HBO series. If you're a longtime Twin Peaks fan or a newly obsessed binge-watcher, there are a few spots around King County you absolutely must check out. This guide will show you how to have the perfect Twin Peaks road trip through Snoqualmie and North Bend, and suggest some library materials to take with you.
Step One: Set the mood with an audiobook or soundtrack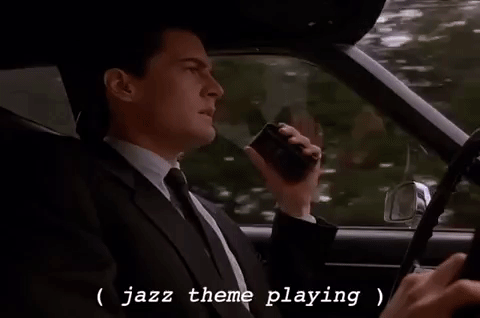 Special Agent Dale Cooper, (portrayed by actor Kyle MacLachlan) is often seen carrying a tape recorder that he uses to record notes for a character we never see on screen in the original series- his secretary, Diane.
If you've ever been curious about Diane or wondered about the full contents of these tapes- you can now download an audiobook- narrated by MacLachlan himself- that includes notes and stories never revealed on television. Diane: The Twin Peaks Tapes of Agent Cooper was released just last year and is only available in the downloadable audiobook format. If you would rather enjoy some eerie music as you drive through the misty mountains- try the soundtrack.
Step Two: Visit the Double R Diner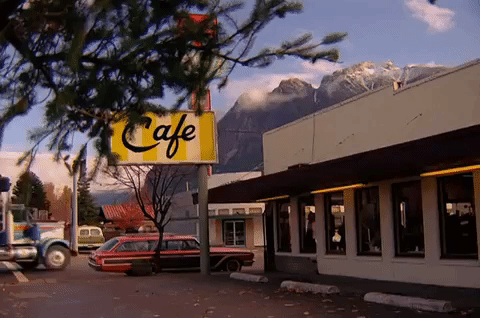 The characters that reside in Twin Peaks often hang out at a diner called the Double R. These scenes were filmed at a real cafe called Twede's in North Bend, Washington. The building suffered a fire in the year 2000, necessitating renovations. When it re-opened, it bore little resemblance to the interiors seen on the original television series. When filming began for the 2017 revival, David Lynch wanted to use Twede's as a filming location again. The original appearance has been restored and remains- to the delight of fans. Twede's Cafe is located at 137 W North Bend Way, North Bend, WA, just a few blocks away from the North Bend Library.
Stop by the diner for a slice of the famous cherry pie and a mighty fine cup of coffee. Agent Cooper wasn't kidding- these are seriously delicious. In a recent interview, the diner's owner said his team is making 120 pies a week to keep up with the insatiable appetite of Twin Peaks fans. If you want to try to make your own at home, check out this cookbook, filled with over 100 recipes inspired by the show's scenes and characters.
I love drinking coffee while I read and this book pairs perfectly with a cup of hot, black coffee in a RR mug.
The Secret Diary of Laura Palmer

The very first episode of Twin Peaks begins with the discovery of Laura Palmer's body. While the mystery of Laura's death becomes clearer as the show progresses, viewers are still left with many unanswered questions. This epistolary novel provides the backstory of the troubled homecoming queen.
After you're done with your coffee and pie, take a walk over to the library to browse books like this one:
The Secret History of Twin Peaks

Step Three: Visit Snoqualmie Falls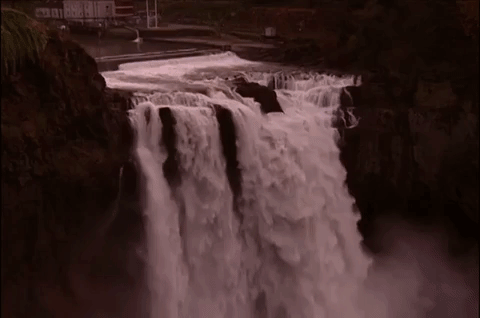 You may remember this gorgeous natural wonder, featured prominently in the opening credits of Twin Peaks. The exterior of the fictional Great Northern Hotel (owned by Audrey's father, Ben Horne) is the very real Salish Lodge & Spa, located at 6501 Railroad Ave, Snoqualmie, WA 98065. When I visited recently, the powerful spring run-off made the waterfall extra impressive. While you're here, enjoy a (relatively) easy hike and explore our region's history with hydroelectricity via the posted educational plaques. You can spot some beautiful wildlife in the area too. Just remember- the owls are not what they seem! The bench at the scenic lookout was an appropriate place to contemplate the weird and wonderful mind of David Lynch.
If you've ever wanted to know more about his process, influences/inspiration, consciousness, creativity and dedication to transcendental meditation, check out the two books below.
Since you're already in the neighborhood, take a five-minute drive down the road to the Snoqualmie Library. If you've already devoured all of the books suggested here but still can't get enough of Lynchian literature- check out something from this list. The recommended reading list contains books featuring the kind of eye-patched amnesiacs, haunted hotels, and existential detectives a true Twin Peaks fan is sure to love. Bonus points: continue down the road for 10 minutes to the newly installed "Welcome to Twin Peaks" sign and snap a selfie with your favorite Twin Peaks related reading material. Share it online with the hashtag #KCLS. We can't wait to see pics from your own road trip!