Welcome back to A Readable Feast, where I coerce my coworkers into giving up their most treasured recipes! This month we're talking with a real food aficionado, Kirsten from Duvall, who has (willingly, I promise) kindly offered up her super-secret recipe for the best pizza dough you've ever tasted!
Here's the story, from Kirsten herself: "My husband and I have been on a quest to make the perfect pizza since our very first Thanksgiving together several decades ago. Yes, that's right, we have pizza for Thanksgiving. Because honestly, we're just not that thankful for turkey. With my mom's recipe for the crust plus a pizza stone we're nearly there!"
---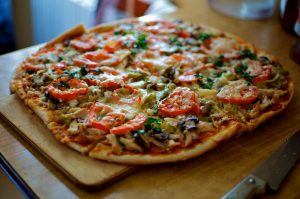 Kirsten's Thanks(-for-)giving(-me-this) Pizza Dough
Equipment:
Pizza stone (A few bricks covered with aluminum foil will work in a pinch. - The Editor)
A fork, dough docker, or pastry pricker
Olive oil spray or some olive oil in a small bowl & a pastry brush
Parchment paper
Pizza Peel
Ingredients:
1 ¼ cups semolina flour (Boyd's Mills)
1 ¾  cups all-purpose flour (King Arthur)
2 TB Italian seasoning (Spice House blend is our favorite)
1 tsp instant yeast
1 ½ tsp salt
2 TB olive oil (extra virgin if you like the flavor in your crust)
1 ¼ cups water
You can use a bread maker to whip the dough up for you or you can use your KCLS library card to see professional tips on Access Video. Executive chef Mario LaPosta will show you how to:
Directions:
Mix and knead together all the dough ingredients. Don't over-knead. It should hold together but can still look fairly rough on the surface. Allow the dough to rise about 45 minutes, then refrigerate for 4 hours or (best) overnight to develop the dough's flavor).
Divide the dough in half and shape into two 9 – 12" rounds (for thicker or thinner crust) and place on a sheet of parchment paper. If your parchment paper is all curly, crumple it into a tight ball, then open it up – it'll flatten right out! Spray the edges of the pizza rounds with olive oil spray (or lightly brush with olive oil). Cover the dough and let it rest while you prep your oven.
Set up your oven with two racks that "divide" the oven in thirds and place the pizza stone on the top rack and turn the heat up to 500 degrees Fahrenheit.
After AT LEAST 30 minutes, use a pizza peel to transfer the first pizza to the hot pizza stone. Bake for 4 minutes, then check and prick the dough with the fork (or dough pricker) to remove bubbles. Return to the oven and with the door open watch the pizza for the next 2 – 4 minutes until the dough turns golden brown. Remove, set aside and repeat with the second round.
Top your pizza with your favorite toppings. The thinner the crust the more lightly you should place your toppings. I've made cream cheese, red onion & smoked salmon, Trader Joe's pizza sauce with double bacon and feta cheese – whatever floats your boat!
Return the pizza to the oven on the bottom rack (not the stone), cook for 4 – 6 more minutes (watch closely until the cheese is all melty and gooey and the toppings are warmed through).
Bonus! This dough freezes beautifully! Once you've cooked both dough rounds (or even divide into four) let the extra cool completely, wrap well in plastic wrap or an extra-large zip lock bag and refrigerate for up to 5 days or freeze for up to a month! When you're ready to make more pizza, heat your oven to 450 degrees, top and bake on the lowest oven rack.
Best. Leftovers. Ever.
---
I definitely see a pizza party in my future. Thanks, Kirsten!
Wanna talk food? Leave a comment below!